NFT Moon Metaverse is a futuristic multi-blockchain metaverse, which is based on the principles of complete freedom for the user. It is based on the Create2Earn technology (Create and Receive).
The main task that the developers face is to create an open metaverse, where the inhabitants of the metaverse will have access to designers with which they can create their lives: build locations, houses, cities, countries, avatars, create their own mechanics, games, economic processes, businesses, sell physical goods, teach and learn, create communities (open and closed), hold and organize concerts, earn money from advertising, create virtual offices (B2B segment) and more than 30 use cases.
What can I do in the metaverse:
#
Creating content (from text to progressive 3D assets and cities), gaining social experience with the help of an avatar, creating locations and businesses, participating in and holding business events (conferences) and concerts, job search and new professions, organizing exhibitions, conducting training, entertainment, games, creating game mechanics with the help of a designer, creating financial mechanics and economics, receiving services from users and companies, buying/selling goods and services.
For companies: creation of exclusive locations and mechanics for business tasks, virtual offices, meeting rooms, training of employees and clients, locations for events, concerts and events at their own locations, exhibition halls with demonstrations of services and financial products, integration of fiat and crypto payments and many other solutions at the request of business.
We are building an open metaverse. This means that any project or person will be able to use or implement the NFT Moon Metaverse functionality: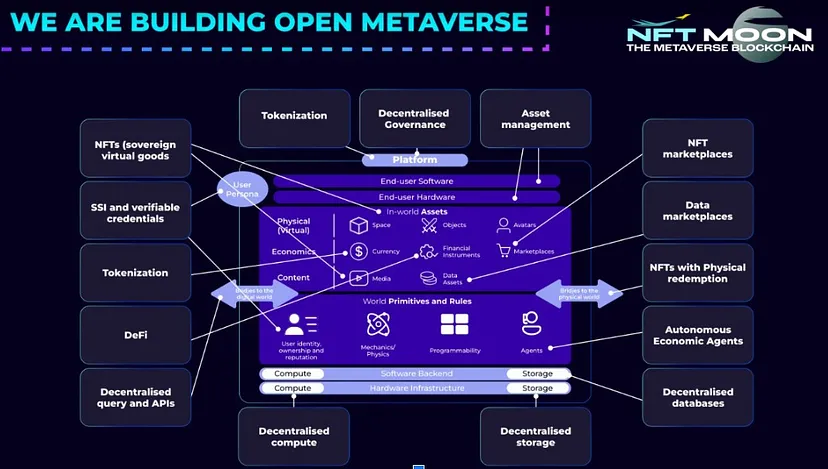 What is MetaFi and C.L.E.V.E.R.
#
How is it used in the Metaverse NFT Moon Metaverse
MetaFi is a new term that combines the two largest technological trends in the blockchain economy: Metaverse and DeFi. This is a huge change compared to the current monetary and financial world — TradFi (traditional finance).
In the NFT Moon Metaverse, the value will be transferred in a tokenized format — crypto, stable coins or CDBC (digital currencies of the Central Bank), and ownership will be registered in the NFT or similar digital assets based on the blockchain.
Create-to-Earn is a new page in the Web 3 economy.
#
Create UGC — your own content, convert it to NFT for use and monetization in the ecosystem, or earn cryptocurrency by having fun in the NFT Moon Metaverse gaming zones.
NFT Moon Metaverse is a space where both models peacefully coexist to meet the needs of all ecosystem participants and create a solid foundation for MetaFi — Metaverse financing.
Create-to-Earn, MetaFi led to C.L.E.V.E.R.
#
C.L.E.V.E.R (abbreviation), is a management system of the NFT Moon Metaverse, which consists of the following aspects:

As a result, C.L.E.V.E.R leads NFT Moon Metaverse to the fundamental principle where every city in the Metaverse is managed by a DAO organization. And the first such DAO is already being created in the first city of Moonopolis. The DAO is formed by the owners of 5000 DAO Avatars. The income of the entire city is divided among all the participants of the DAO. More than 10 sources of income: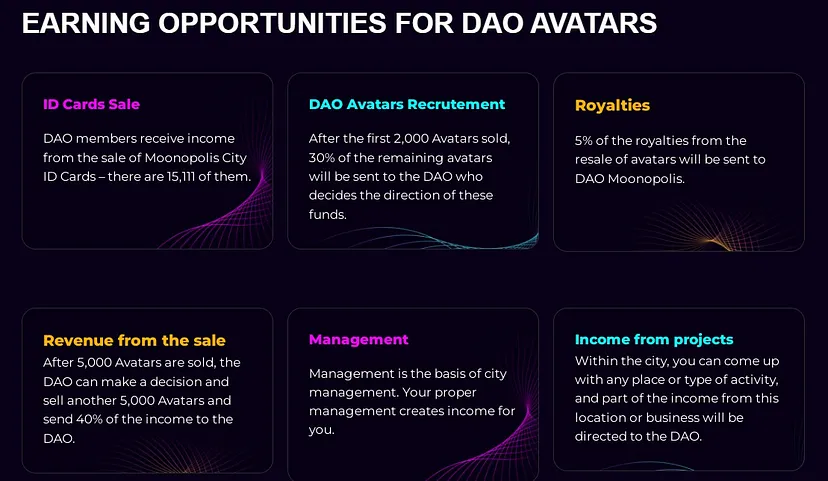 Answers to popular questions about Moonopolis and DAO Avatars.
NFT Moon Metaverse also has a social orientation. Now locations and zones are being created for training new professions of the Metaverse. Negotiations are underway with teachers and curators who will support the development of this direction. The Alpha version provides zones where beginners will be able to get acquainted with the professions.
In addition to new jobs, a freelance exchange is being developed at NFT Moon Metaverse, where 3D designers, artists, game designers and other specialists will be able to offer their services. With the growing traffic, there will be a lot of such specialists in the Metaverse. After all, every "Meta-user" will want to create unique locations or mechanics, but not everyone will be ready to work with designers and create themselves, but will use the services of the exchange.
Builder of free cross-game 3D avatars for the Metaverse.
#
In addition to DAO avatars, each user of the Metaverse can create a free 3D avatar for himself, which he can use in other metaverses and games. You can also make an avatar based on your personality. Just add your photo and you will get an avatar that looks like you. Next, in the constructor, create the image that you deem necessary on the basis of ready-made sets. Just click and get a ready-made avatar that you can use in NFT Moon Metaverse and other games and metaverses.
What metaverse assets can you already purchase:
#
Plots of land. #
A total of 10,000 plots of land in six different categories. Each category contains a certain number of plots, their uniqueness, divisibility, income received, access to the constructor, token distribution and many more advantages. Detailed information is available on the land purchase website.
ID Card Monopolis City.  #
MOONOPOLIS CITY is the first city in the NFT Moon Metaverse to be placed on one of the 10 unique Presidential land. The city will be an economic simulator with graphics close to reality. Each cardholder will receive a resource allocation depending on the card ID class. There will be a total of 15,111 ID cards of 7 categories. Each category contains a certain number of Id cards, uniqueness, resource allocation, level of access to the builder, access to locations, income from the city and many other opportunities. Go to the ID card purchase website. 
DAO Avatars. #
Via the DAO, you can influence an evolution of the Metaverse and navigate its future. DAO Avatars are the key decision-makers on how this world works and its economy develops. 
Besides personalization experience, management privileges and vote rights, DAO Avatars get access to over 10 exclusive sources of income, in particular:
ID Cards Sales. After the first 2,000 Avatars sold, DAO members receive 30% income from the sale of Moonopolis City ID Cards and NFT Certificates (only from those sent by owners of Avatars).
DAO Avatars Recruitment. After the first 2,000 Avatars sold, 30% of the remaining Avatars will be sent to the DAO who decides the direction of these funds.
Royalties. 5% of the royalties from the resale of avatars will be sent to DAO Moonopolis.
Creation and sale of new DAO Avatars. After 5,000 Avatars are sold, the DAO can make a decision and sell another 5,000 Avatars and send 40% of the income to the DAO.
Income from projects across Metaverse. Within the city, you can come up with any place or type of activity, and part of the income from this location or business will be directed to the DAO.
CLEVER Management. The proper and wise management itself creates sources of income for DAO Avatars. 
Go to the website of the DAO avatar purchase.
NFT Moon Metaverse token NTM.  
#
In NFT Moon Metaverse, there are three units for calculations and receiving rewards:
This is an NTM token with which you can make calculations in the metaverse. And you can also sell it on exchanges. The token is still in the private round and it can be bought. To do this, go to the purchase chat.
This is an NTMi token, it cannot be bought on the exchange. It can be obtained by performing a useful action in the metaverse. For example: creation of content, mechanics, games, business, events, concerts, communities, locations and territories for training, meeting rooms… etc.
This is a unit of content measurement called a Moonbit. Any content that you create in the metaverse has its own characteristics, such as volume, number of polygons and megabytes, number of transactions, occupied RAM memory and many other parameters. Depending on the quality of the content and its usefulness, you are awarded a Moonbit. Thanks to the Moonbit in conjunction with NTMi, you get an NTM token, which you can easily sell on exchanges, as well as use for stacking, farming with NFT to generate income.
The NTM token is the main unit with which you can make and withdraw funds to the NFT Moon Metaverse, as well as it is much cheaper to buy lands, Id cards, DAO avatars. You will also be able to receive income from DAO organizations in it. This is the basic unit of calculation. Therefore, the value of the token is high and will be in demand.
Now there is an opportunity to buy the NFT Moon Metaverse (NTM) token even before the start of IDO and listing and at a price below market entry. Thanks to this, you will also be able to receive the distribution of the NTMi token, participate in stacking and farming, and buy metaverse assets cheaper.